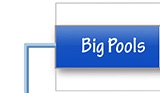 Every EZ Pool is Made in the USA
Every EZ Pool we sell is made right here in the United States. While many of our competitors have found it cheaper to do business in China, Brazil or some other third world country - we have found it to be less-expensive in the long run to keep production right here in the US.
There are many benefits to this advantage, such as: easier to keep track of quality, reliable companies, and trustworthy vendors which are an essential part of being a successful company in the US. We have heard some real horror stories about bringing hundreds of pools from China that turned out to be bad - only to find out that the company that made them in China is gone.
We have sold pools to Canada and throughout the upper parts of the United States where it freezes 3-4 months a year. We've sold pools to Arizona, New Mexico and throughout the lower scorching out summer areas of the US. When you design a quality product and use quality material, you get a quality pool that can survive the elements.
Of course as any parent or dog-owner knows, sometimes it is not the elements that concern them, but the element at home that they worry about. Yes, an EZ Pool can survive years of that as well.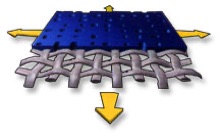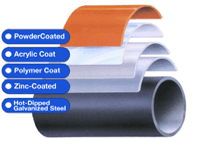 We Make Better Pools Becasue we use only Quality Materials
It is not just enough to make your pool here, but to use quality materials as well. Because quality in means quality out.
Our 28Mil poly-reinforced pool material is made in factories in Tennessee, Wisconsin and Georgia. These are factories that follow all the necessary guidelines of Good Manufacturing Practices with some of them passing the prestigious ISSO standard of quality.
The steel frame we use for every EZ Pool is also made to the same high standards of quality. If you consider how big many of our EZ Pools are, you can see why it is so important to make sure only the highest quality parts are used.
There is another important aspect of how we do business. When you buy an EZ Pool from us, you are buying a product that helps to support American companies, who employ American citizens, who pay taxes and support the US economy. After all, keeping your money here in the United States could go to save somebody's job - maybe even yours.
Yes an EZ Pool can Freeze Solid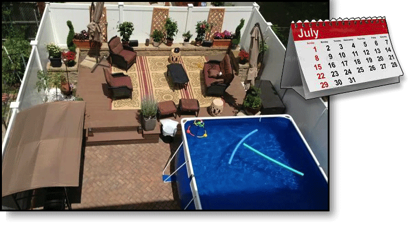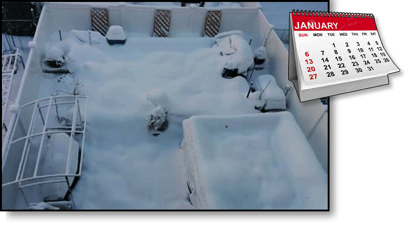 The Most Flexible Portable Lap Pools Available
There are a combination of aspects about how we make our portable pools, where we make our portable pools and with which companies we choose to rely on for quality components as part of our portable lap pool. These ingredients afford us the opportunity to provide you with the very best quality portable lap pool, for less than you though possible, and with right options and accessories you want.
Our Portable Lap Pools are Designed to be Flexible
All our competitors are really retailers of another company's pool. And these retailers are only able to provide you with a choice of a few sizes, one or two colors and that's pretty much it. Now some of them are able to get you a quote for a different size, different color or depth - but this quote will either be for almost double the retail price and/or will take 8-10 weeks to get it.
That is not the case with us. Because all our portable pools are made for us, and made to order, we are able to proved our customers with the option of modifying any existing portable lap pool package for a very small fee and without adding weeks to the order. So if you like the 7' x 42' lap pool package but need it to be a little shorter, a little narrower, a different depth or even a different color - we can do it for you in the time frame and price range you want.
Made to Order Means Made to Order
Our pools are truly made to order. So in effect we are able to provide you with the custom-ability that very expensive in-ground lap pools provide and the price of an over-the-counter item. It is both come and regular for a customer to call us up and ask us if they can get one of size pools slightly shorter, narrower or even deeper.
What customers are really amazed about, is that we can make a pool almost any color. Because of the durable liner material we use is used in so many other ways, the makers of this material provide it in a variety of colors. This means we are able to provide this unique feature to you with doubling the price of the pool.
Would You Like that In-Ground, Above-Ground or Decked?
We are continually surprised by how our customers have used the durable and flexibility of oan EZ Pool in a variety of settings. Some customers have buried them completely, some have partially buried them then built a deck around them, others have placed the pool next to an existing deck and simply covered them to make the pool look like it was part of the deck - while others just put our portable lap pools right on top of the grass, dirt, concrete, asphalt or any combination thereof. Whatever your needs are you will find your EZ Pool to be the most flexible portable swimming pool available.
We Are Also Flexible
Everybody's situation is different and as such it is important to point out that we are also flexible. When you call us and say we only want this or that, we will not say no to your needs, but do our best to meet your needs in a way that no other portable pool retailer can ever do. After all, we are part of the ever-growing EZ Pool Family as well.

® 2022 Registered, All Rights Reserved • Official site of EZ Pool Products, Inc.