Yes. We have that Size, Depth and/or Color You Want.
All our pools are made for us right here in the good 'ol US of A. We do not import from overseas, nor do we export your hard-earned money. When you buy from us, your money stays right here to help other American companies.
Because we keep everything local, we are able to offer custom pools at essentially the same affordable pricing as our regular pool packages. And custom pools generally do not take that much longer to make either.
The above picture is just one example of the many customers who have written us testimonies over the past 15 Years. Click Here to See More >>>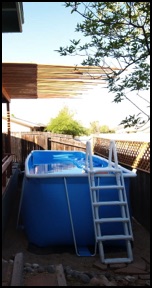 A Pool for Any Space
We provide some of the narrowest footprints available. What's a footprint? Essentially the area of space your pool needs to fit. Because we can modify our existing pool sizes, we are able to help people convert narrow, unused portions of their yard into a wonderful swimming pool playground.There's a small fee to modify - but compared to costs for an actual "custom pool" - an EZ Pool is still the most affordable solution.


Yes We are Very Colorful
Which is to say we are full of color options for your EZ Pool. Our standard pool color is sky blue, but we can make you a black pool - we've done it. We can make you a gray pool - we've done it. We can make you a lime green pool, which we have done for Hollywood special effects, a red pool or even a bright orange pool.
IMPORTANT UPDATE: Due to a lack of avialable colors for the 2021 season, we are not able to offer our full line of colors. All pools will be made in our default Light Blue. If you are seeking a special color, please contact us in advance to check on availability. Learn More >>>