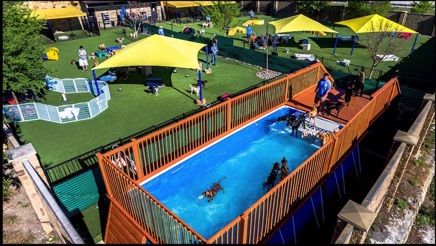 The Very Best Way to Prove the Durability of an EZ Pool
Traditional metal-sided above-ground pool owners are terrified to let their dogs into the pool because their claws will damage the thin liner used with that type of cheap tin can.
This is not true with an EZ Pool. Our incredibly strong, American-made, poly-reinforced pool material is similar to what the military uses for its inflatable boats or used in making those giant blimps over football games. So let the dog play all they want. Better yet, buy them their own EZ Pool.
The above pictures are just an example of the many customers who have written us testimonies over the past 17 Years. Click Here to See More >>>
How about an EZ Pool for Sea Dogs?
Technically Sea Lions, but if you've ever heard them "bark" they sound more like dogs than lions. The Santa Cruz Aquarium needed to have a temporary facility to isolate sick sea lions from the herd. So they reached out to EZ Pools and we provided them with a durable pool that allowed them to have a inexpensive isolation pool for sick animals.
Just another example of how strong and durable an EZ Pool is.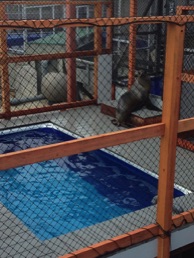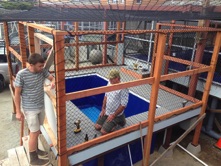 How About an EZ Pool for Sea Dogs?