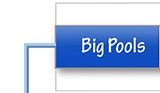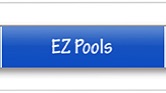 Yes. We have that Size, Depth and/or Color You Want.
All our pools are made for us right here in the good 'ol US of A. We do not import from overseas, nor do we export your hard-earned money. When you buy from us, your money stays right here to help other American companies. Because we keep everything local, we are able to offer custom pools at essentially the same affordable pricing as our regular pool packages*. And they generally do not take that much longer to make either.
A Pool for Any Space
We provide some of the narrowest footprints available. What's a footprint? Essentially the amount of space your pool needs to fit. Because we can modify our existing pool sizes, we are able to help people convert narrow, unused portions of their yard into a wonderful swimming pool playground.
Your EZ Pool does not exist until you order it. So we can make it narrow or shorten any one of our pool sizes and for less money than you might think.
For example: this picture is in an area of a customer's yard that was really of no value to them. Then they found our website and made the pool a part of their landscape project without sacrificing any of the yard they had planned to landscape (see below).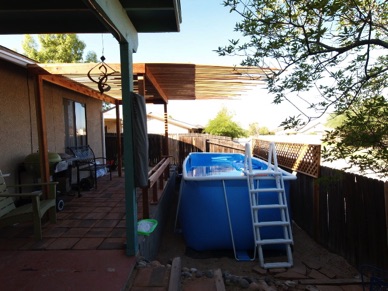 Difference Between Custom and Modified
There is a big difference between custom and modified. Many customers do not need a custom EZ Pool, they just would like to modify one of our existing affordable pool sizes to fit their needs.
For example: let's say you like our 7' x 17' Portable EZ Pool. The footprint for this pool is 9.5' x 19.5'. Now let's say the area where you want to place the pool is only 8.5' wide. Then to accommodate your needs, the pool would be modified to fit that space. So instead of a 7' x 17', you would have a swimming area that is 6' x 17'. Plus any accessories you ordered with your pool (ie: pool cover, solar cover, etc.) would also be modified to fit the new dimension.
We do charge a small fee as we have to modify our standard parts to fit your new size, plus this can add an extra day or so to the final production time. But when you compare the costs for an actual "custom pool" - an EZ Pool is still the most affordable solution out there.
So take a walk around your yard. Look at areas you never thought using for a pool, then give us a call or send us an email. But we can tell you right now, the answer will be "Yes we can!"
Yes We are Very Colorful
Which is to say we are full of color options for your EZ Pool. This is a really unique feature about a portable EZ Pool. We can provide you with the option of choosing between 9 different colors.
Our standard pool color is sky blue, but we can make you a black pool - we've done it. We can make you a gray pool - we've done it. And though it is not list on the color chart, we can make you a lime green pool, which we have done for Hollywood special effects, a red pool or even a bright orange pool. We have even made a pink portable pool for a woman who wanted a giant Barbie® doll pool. Please note some colors are not stocked and may take longer to make.
Again, we are trying to reinforce the theme that we are not just your average run of the mill portable pool retailer. We are the very reason why you are looking at a portable pool in the first place. If you have Read Our History, then you know we launched portable pools in America and continue to push the boundaries with regards to everything portable pool related. So no matter what your portable pool request is, EZ Pools can help make it happen.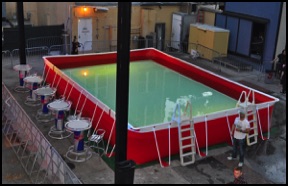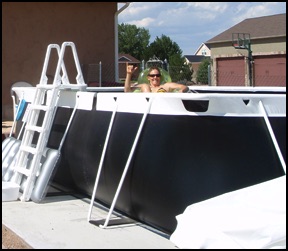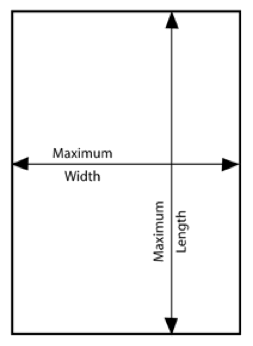 Understand your Footprint
Every EZ Pool has the pool specs listed on the ordering page. This tells you the minimum width and length that that size pool needs. When measuring the area that you want to place the pool in, be sure to measure both the width and length of the area. Then compare this to the EZ Pool specs you are looking at.
To get the most pool for your pool site area, you can calculate it this way: you measured an 8.5' wide by 17.5' length pool site area. Your swimming area would be 6' x 15' (8.5' x 17.5 pool site then minus 2.5' for the support struts). There is a small fee to modify a pool size down from its listed specs. But we do not modify up. In other words, the best price for a EZ Pool to fit the above pool site area would be the 7' x 17'.
If you have any questions, just give us a call or shoot us an email and we will be happy to quote you a price or let you know which portable pool size we have that will best fit your area - or the exact cost to modify an exisitng template to fit exactly your pool site area.

* Special Note: Depth increases greater than our listed standard depth are based on commercial RFQs only. If you are in need of a deeper commercial pool, send all RFQs via email for proper evaluation.

® 2023 Registered, All Rights Reserved